Welcome to

Spring Reach Nursery

An award winning plant nursery and one of the South's best kept secrets. We are set in heart of Surrey, and only 5 mins drive from RHS Wisley.

We have an amazing range of garden plants to tempt you. Choose from Shrubs, Perennials, Grasses, Bamboo's, Roses, Climbing plants, aswell as a great selection of Evergreen Climbers, Hedging, Trees, Fruit and over 70 Varieties of Clematis. Also we have a good choice of Rare and Unusual Garden Plants.

We are a Specialist Plant Nursery and not a Garden Centre, so for those of you who love gardening, we can offer you the very best range of garden plants and flowers complement by expert plant advice and good old fashioned service!
You are also able to purchase plants by mail order. To view our range why not order one of our garden plant catalogue's or view our list online or visit the RHS Plant Finder to see a full range of garden plants. All stock is subject to availability so please give us a ring or go to our Contact Us page.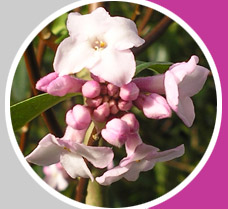 New this season
Daphne Jacqueline Postill
Buy the wonderful Daphne Jacqueline Postill, an evergreen shrub, covered in masses of small scented pale pink flowers in Spring. Available to buy direct from the nursery or by mail order. To find out how to buy Daphne Jacqueline Postill and to view more Daphne varieties

New this season is our range of plants for a purpose, chalk, clay, shade, ground cover, we sell plants for those problem places plus a selection of rabbit and deer proof plants.
Stuck on what to buy for a gift, we have an excellent range of plant gifts for those keen gardeners check us out for great gift idea's Anniversaries, Birthday, Weddings, House warming, or why not buy national gift garden vouchers whatever you decide plants make great presents.
Visit Spring Reach Nursery for the unforgettable Plant Experience.
Only a short drive from RHS Wisley Surrey. Directions
British grown plants at their best