Hedging Ilex & Pyracantha
Buy Hollyplants from Spring Reach Nursery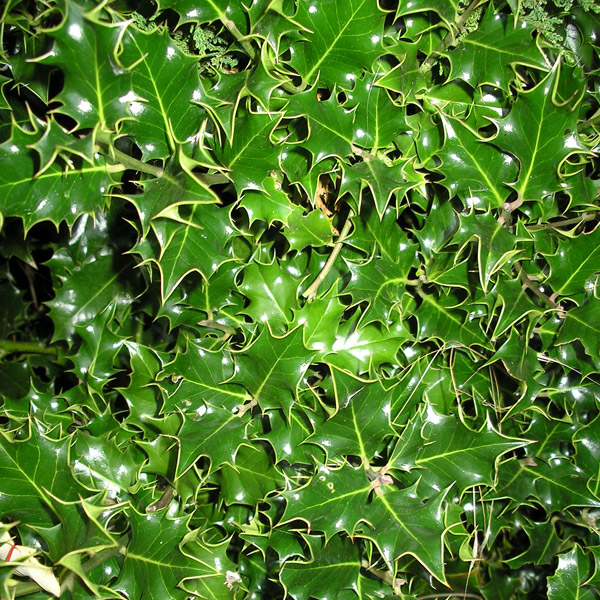 Hollies are valuable garden evergreens. They are very hardy and are slow to medium growing and have great all year round appeal with attractive evergreen foliage and winter berries. There are numerous foliage types with many having spiny leaves although there are some that have more or less spineless leaves. They are extremely good for privacy and for making a prickly hedge.
We have good stock of plants ready for hedging or specimen plants, ordering can be easily done by calling us.
For prices of holly plants and availability contact Spring Reach Nursery
info@springreachnursery.co.uk or sales 01483 284769.
The holly has become a great plant for growing as a hedge and can make quite a defensive barrier when the spine-leaved variety is used. This can act as a great deterrent and is sometimes classed as burglar proof plant. There are also some lovely variegated forms of holly which, due to the fact they grow in shady positions and so will brighten up any dark corner. Here are some of best selling varieties of holly.
Ilex Golden King
A female form with few spines with green leaves and wide gold margin.
Available in 3 litre 60-80cm for bigger sizes please enquire.
Ilex Silver Queen
Male form with spines and delightful silver variegated foliage
Available in 3 litre 60-80cm for bigger sizes please enquire.
Ilex aquilfolium - native English Holly
Native English holly with dark green spiny leaves.
Available in 3 Litre 60-80cm for bigger sizes please enquire.
Ilex Argentea Marginata
Spiny female form with green leaves and white variegation.
Avaliable in 3 Litre 60-80cm.
Ilex
Golden King
Ilex
Native English Holly
Buy Pyracantha Plants (firethorn)
A popular and hardy ornamental evergreen shrub, grown in part for their blossom in early summer, but more importantly for the red, orange or yellow berries, which are retained well into the winter. The firethorn, as the name suggests, has spiny branches with glossy evergreen leaves. They are often grown as wall shrubs and make a different informal hedge.
You may purchase Pyracantha plants direct from Spring Reach Nursery in Surrey only 5 mins drive from RHS Wisley. Or we can send mail order to anywhere in England,Wales and the Scottish Borders.
The following pyracantha varieties are suitable for hedging. pyracantha is not only good for hedging but is excellent for training against a wall with support, or it may be grown as a free standing shrub.
Height of up to 8ft can be achieved with a spread of 12ft. Pruning may be anytime from May through to July.
Pyracantha - saphyr orange
A compact form with narrow dark evergreen leaves, clusters of white flowers followed by bright orange berries.
Pyracantha - saphyr rouge
Thorny evergreen shrub with narrow glossy leaves, white flowers followed by bright red berries.
For prices of pyrcantha plants and availability contact Spring Reach Nursery
info@springreachnursery.co.uk or sales 01483 284769