Hedging Prunus rotundifolia - Laurel
Buy Laurel hedging from Spring Reach Nursery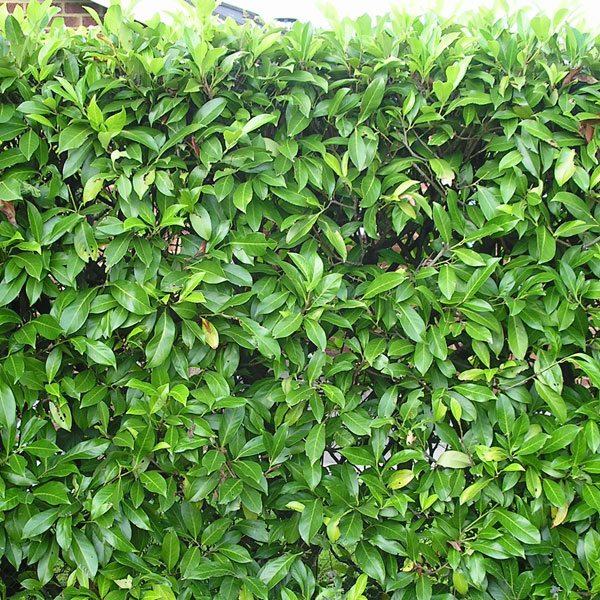 Here is a selection of some of the best Laurel hedging plants; all over a period of time will create a really good evergreen privacy hedge and so are perfect for screening off your garden from visual intrusion.
An instant evergreen screen is possible immediately but this is very dependant on the size and height and the distance between the laurel plants at initial planting. Hedging plants should ideally be planted between the Autumn and late Winter but are available to buy all year from Spring Reach Nursery subject to availability.
For Hedging prices please ring Spring Reach Nursery on 01483 284769 or
email to info@springreachnursery.co.uk.
Prunus rotundifolia - Laurel
Laurel - Prunus rotundifolia or Prunus laurocerasus as it is sometimes known is one of the best choices for an evergreen screening hedge, not only is it quick growing but its dark thick leathery green leaves and single plume type flowers makes this one of the most popular and attractive evergreen hedging plants.
Laurels come in various sizes the majority are container grown for easiness although they are available in the autumn and winter rootballed. In order to prepare the ground for planting it is best to dig the ground over first and then add a good organic compost to the planting holes. Final spacing of the laurel plants will all depend on what size laurel bushes you decide to buy at outset.
Prunus rotundifolia is best suited to most free draining soils and is versatile in any aspect either in sun or shade. Overall, the eventual height when established can easily be over 15ft if left unpruned but like all laurel varieties they can be hard pruned to control their size.
Prunus rotundifolia sizes available:
60-80 cm
100-125cm
150-175cm
175-200cm
Prunus lusitanica – Portuguese Laurel
This is a slower growing version of hedging laurel that is more compact with dark glossy green pointed leaves complemented by white plume type flowers in early Summer. Prunus lusitanica makes an excellent evergreen hedge or a single specimen bushy laurel and when established will make an evergreen screen up to 10ft. They will easily grow on most free draining soils and is versatile in any aspect either in sun or shade.
Prunus lusitanica
is available in various sizes from spring reach nursery.
60-80 cm
100-125cm
150-175cm
Prunus lusitanica
Portugese Laurel
Prunus rotundifolia
Laurel