Hedging Cupressocyparis leylandii - Conifer Hedging
Buy Cupressocyparis leylandii (Leyland cypress) from Spring Reach Nursery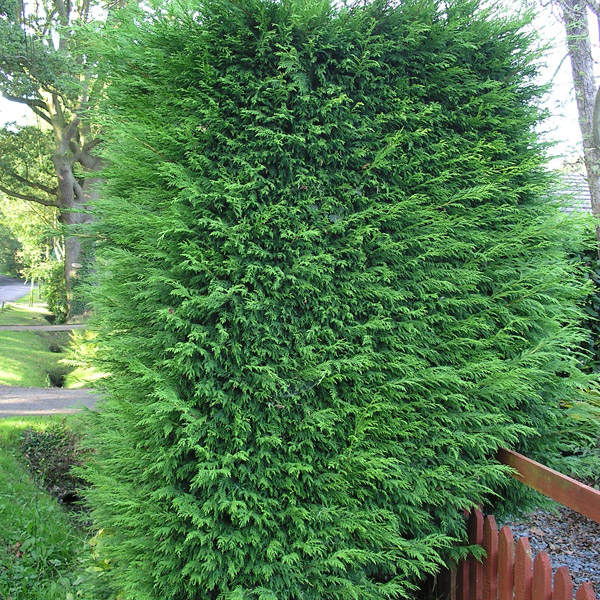 You can buy a large range of sizes of green or gold hedging conifers direct from Spring Reach Nursery in Surrey which is only 5 mins from RHS Wisley. Alternatively, we can send your order to anywhere in England, Wales and the Scottish Borders.
For prices and availability of Leyland conifers in a range of sizes from 60cm to 1.8Mcontact SPRING REACH NURSERY at info@springreachnursery.co.uk
or sales 01483 284769.

Leylandii hedging conifers are one of the best evergreen screening hedges as they are a very fast growing conifer being able to grow over 30-45cm per year and so provide excellent privacy in a very short space of time. They are suitable for a wide range of soil conditions except extreme chalk or very heavy wet clay and will grow in full sun to quite shady areas. In order to get the best from a Leyland cypress hedge the hedge must be pruned annually.
Leylandii hedging varieties
The main types of leylandii screening conifer are the green and gold forms.The main gold form being known as castlewellan and the green simply as cupressocyparis leylandii. Both types have a very similar rate of growth and make superb evergreen screens. All are container grown.
sizes available:

60-80 cm
100-125cm
125-150cm
150-175cm
cupressocyparis
leylandii
Green
Castlewellan leylandii
Gold